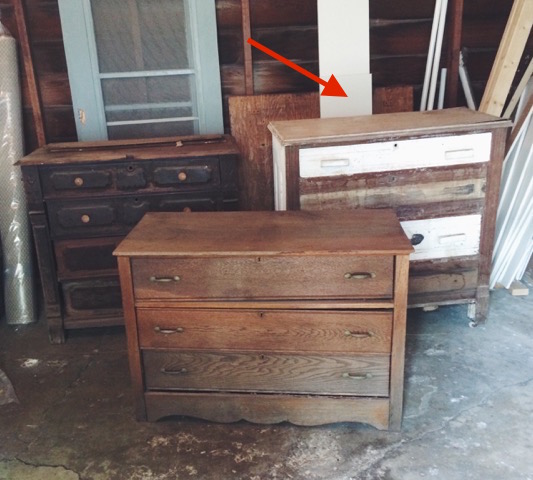 We pulled that dresser, the one with the red arrow pointing to it, from a barn in Northfield, Minnesota along with a few other dressers (as you can see). It had the usual issues that come with being stored in a barn for that long.
The dressers were collected by the seller's father and left in this barn for something like 20 years. He meant to fix each one, but as the daughter mentioned, with a smile, he said that about a lot of things around their property. He had since passed away and all of his ramshackle, treasured items were left. I think we all know someone like that and if you don't, it's probably you.
The seller's son mocked us saying that we were paying for wood best fit for a fire. We had to take a trip to pick up each dresser and with each trip this teenager rolled his eyes while his mom ran her garage sale and left us to dig around inside the barn.
Granted, we did not get to work on this piece immediately because we were close to finishing that first Minnesota house of ours and listing it. On our way to achieving our big goal of moving to the Pacific Northwest. The house quickly sold, so each piece was shrink wrapped in order to hold them together for their long haul across the U.S.. We actually sold our own furniture to bring these broken, glorious beasts. These types of pieces mean that much to us. You should see the collection I have in the workshop, my own ramshackle treasures waiting to be restored.
As you have gathered, we repaired and refurbished that dresser. The one fit for firewood. Here it is today.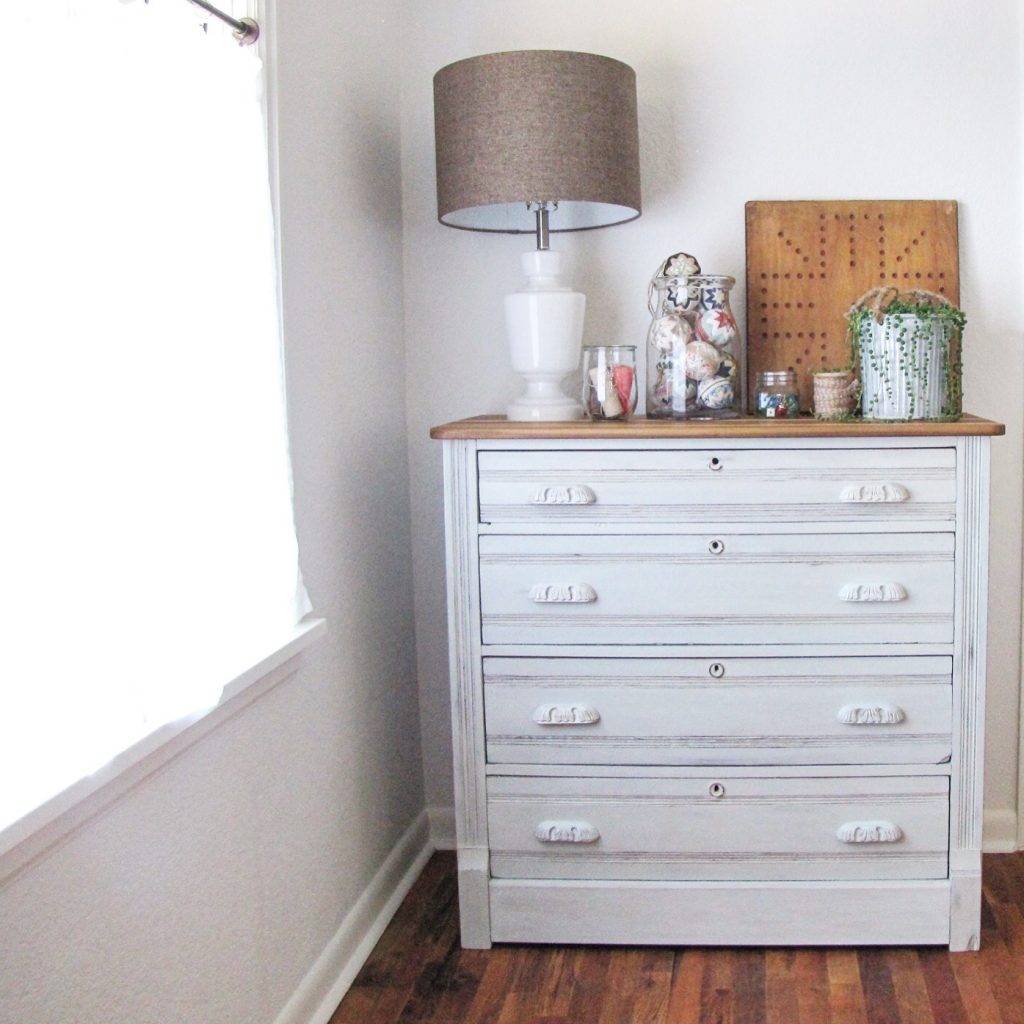 Not firewood now
I don't have, or couldn't find rather, photos of this dresser in the early stages of its makeover. Which is odd. I take a lot of photos around here. But what often happens is that because we split our time between remodeling our house and refurbishing furniture, I was probably in remodel photo mode and it didn't dawn on me to switch gears.
I truly had hoped to keep the original charm of the piece and simply clean it-that mix of raw wood and chippy white paint was kind of neat, but the repairs did not allow for it.
The dresser needed the works. It's a fairly large chest of drawers by today's standards-39 1/2″ tall by 41 1/2″ wide by a little over 18″ deep-not even close to the largest pieces we've done, though.
We had to make several replacement parts, many you can't see (all important parts for a functional storage piece), including a top and base board. There was a lot of cleaning and sanding to top it off. Parts were stripped with Smart Strip (no affiliation or freebies from the company btw). It is the third stripper I've used in my life and worked the best of the 3…but I hate using stripper. If I were to use stripper again, I would pick this one. Biodegradable, water-based, remained wet for a longer time than other strippers we've used, needed only 1 coat for most of the dresser and it quickly worked compared to other products with easy removal using a putty knife. (We were former fans of Soy Gel Stripper-which is now called Blue Bear-and our first trial was using Citristrip.)
I even tried to find reproduction pulls to fit the look and had a few bad experiences bang in a row. The quality differed, the grain did not grow at the same rate and so some finished differently from the others, some were just horribly carved and didn't look like the other pulls.  The second batch, after I gave up trying to get replacements without paying extra, was lost in the mail. So I ended up ordering yet another set, a third set, hoping that of the 24 I purchased (8 lost and later refunded), I could get 8 that looked similar to one another.
Then, after all of that, I had to try to match them to the custom milk paint I had on the body. Freshly mixed milk paint, or milk paint kept in the fridge for a day, will be fine, but this was weeks later so I had to mix this custom color all over again and sometimes the ratio you write down still doesn't cut it. My tip would be to have all of your parts ready to go when you mix up a batch of custom paint. Probably a dur. Or NSS (No sh** Sherlock.)
At one point I decided to throw in the towel, highly unlike me, and bought 8 other iron pulls…that just didn't do it for me. Eventually I went back to the wood pulls, put my big girl pants on, got the color just right, waxed them and slept better that night. (I won't mention that when Greg went to add them he had to make new holes on the actual pull since they came pre-holed.  Ok, so I will mention it. That was aggravating…then I saw it and went yep, that there is a classic beauty and danced around in victory.)
I also attempted to match the base board to the older wood which meant dark wax coating, followed by a white wax, then trying to match the body color on top because it made a difference on this piece being a lighter glaze (more water in the milk paint) with some wood coming through.
I distressed some points, not too much, my favorite way if I do a distressed look and topped it with Fiddes & Sons wax. (Again, no affiliation or freebies from the company. This is our preferred brand of wax.)
The top is tulip poplar I fell in love with at Rockler Woodworking even though, in the woodworking world, it's not very pop-lar (hehe pun fans). I should say its popularity depends on your project because some people love to use it on projects like guitars (fun fact-Greg used to build base guitars and was this close to doing it full time after college). It is known as a mineral stain called "rainbow poplar" with tones of blue, purple and yellow on this particular piece of lumber.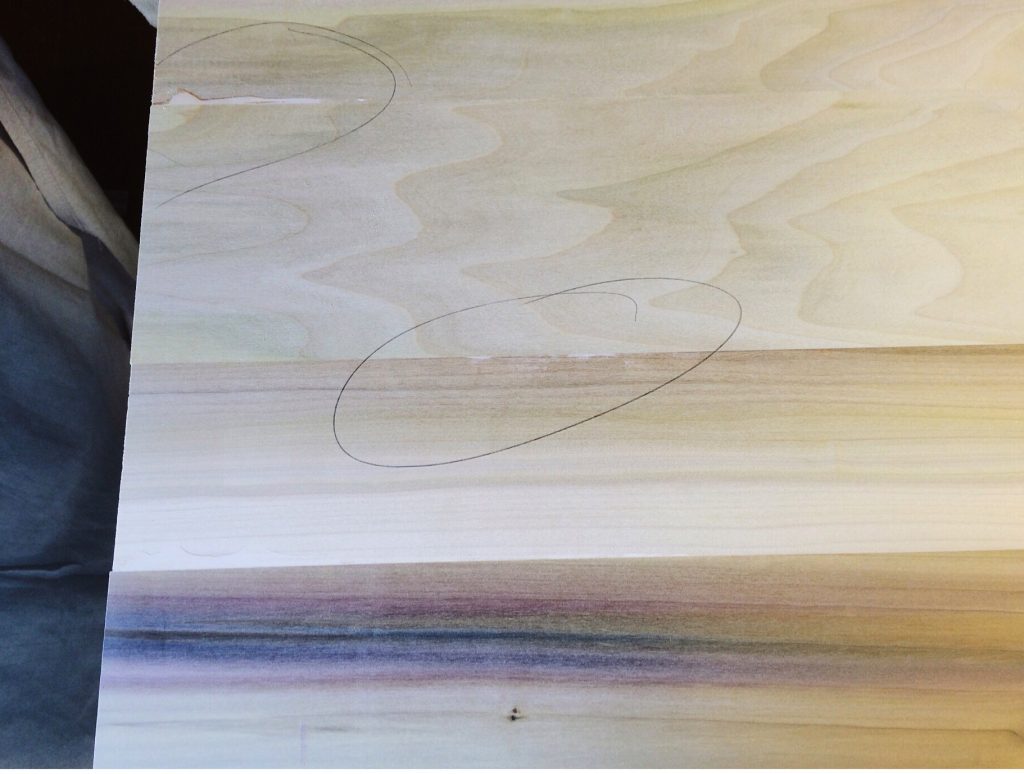 The marks were high spots and glue that needed to be sanded down. That is mineral stained "rainbow" poplar.
The top was cut and glued at Greg's place of employment and brought back to me to finish. To cut the vividness down, it was a tone of yellow I would call neon and not something that went with this dresser. I started with a white wax coat, followed by time in the sun, more white wax, more sun, some oil and it turned into this gorgeous top. Greg knows the most about wood and I'm pretty good with finishes.  Teamwork!
I wanted this piece to represent our versatility to the new PNW crowd. We can do modern, fun, sophisticated, distressed (shabby some will say) and everything else. Sometimes we don't paint furniture at all.  Crazy, I know. I often have no idea what something is considered and just enjoy it. Makes it difficult to advertise, but if you're like me, you just see something and like it (or don't).
Can I say this piece is gorgeous though? Of course I can. Sure my photos are not great. I still walk by on my way to the kitchen and tell myself damn, woman (and husband Greg), good work.
The color is hard to describe. Light blue with a hint of green and almost off-white and the drawers work and the top is lovely….oh yeah, we are looking for a special buyer who will continue to take care of it. If you are in the Seattle/Tacoma area or are willing to come to us, this one could be for you. Check out our "For Sale" page to see if it's still available.
P.S. That aggravation board, marbles and dice belonged to my grandparents. I would play for hours with my grandpa. When he passed away, I inherited those precious items, so it's my nod to my aggravation partner. I also made those fabric ornaments after my mom and sister taught me. We're all crafty in the family.
~Annie (Em)
Before and After: Light Blue Antique Dresser